(028) 22 494 333
Room 101, 226/4A Le Trong Tan, Tay Thanh Ward, Tan Phu District, Ho Chi Minh City, Viet Nam
Winam-TP-2 Level Funhouse Indoor Playground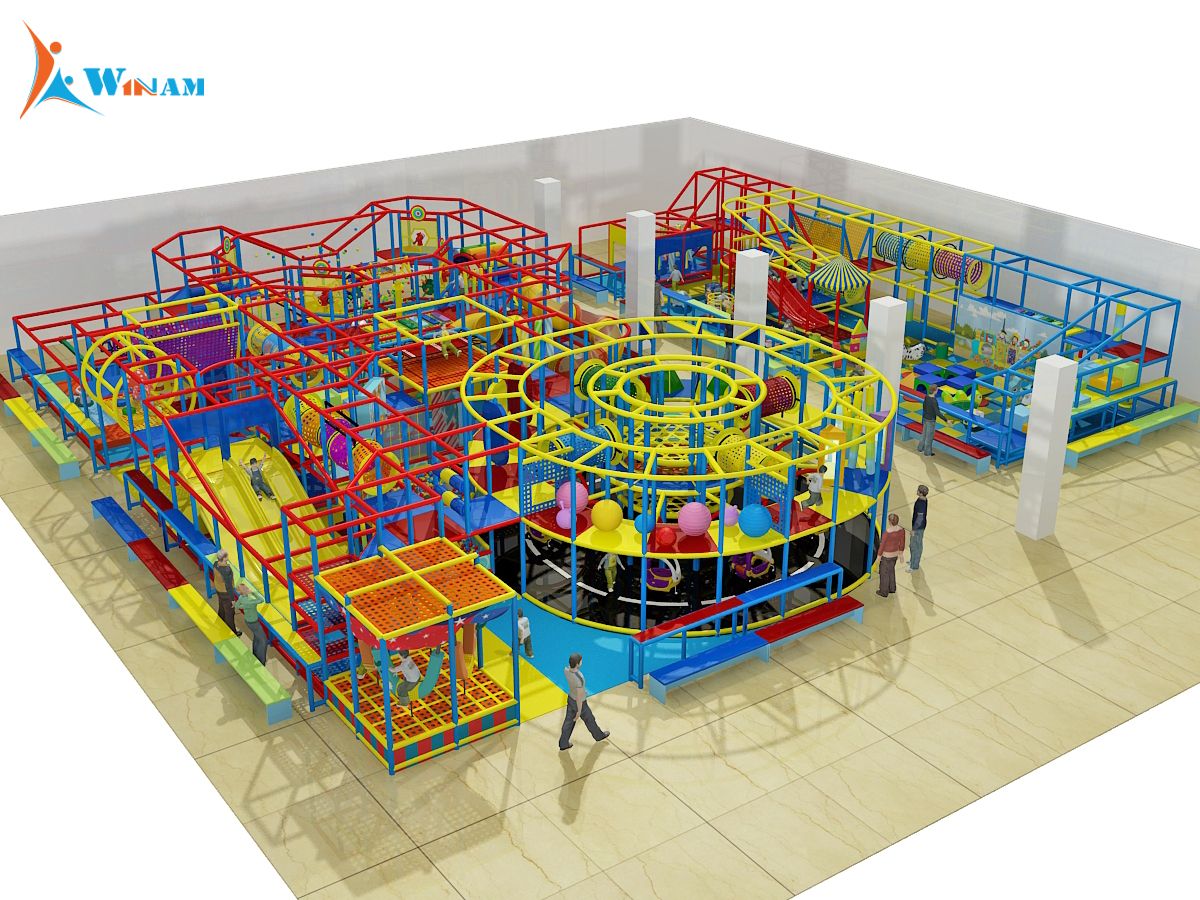 Description:
Two Level Funhouse Indoor Playground with a sectioned-off Toddler Area allows for younger children to play safely in another room while older kids play on the main playground.
Product detail
Specifications
Image
This Two Level Funhouse Indoor Playground comes with a sectioned-off Toddler Area that allows for ages 0 to 5 to play safely along with other younger children on our soft play toys and climbing obstacles. Included in this play structure is a Tumbler, Double Spin Seats, Hopping Stumps, Bopper, Punch Bag, and an X-Cross Obstacle. Additionally, it includes an Animal Rocker and a Climber Kit. Most noteworthy, just like our playgrounds, our toddler area is totally customizable. Lastly, it has room to have alternative interactive play panels or any themed soft play toys to climb on or build with.
More fun features are in the main playground. First of all, there are 2 sets of Dual Straight Slides, a Yoga Ball Room, and a Triangle Mirror Obstacle. Secondly, the main playground has much climbing and hanging obstacles on both levels! Additionally, it has Climbing Stairs Bridge, a Ball Blaster Arena, Ball Return Machine, and a Ball Fountain. Next, it also offers cars and tracks to keep the kids moving not only on 2 feet but on 4 wheels as well. Most importantly, the option to add or take away features, or change the theme to this playground to fit your needs, is never an issue. Finally, this indoor structure is great for restaurants, malls, daycare centers, preschools, etc. and of course an indoor playground park!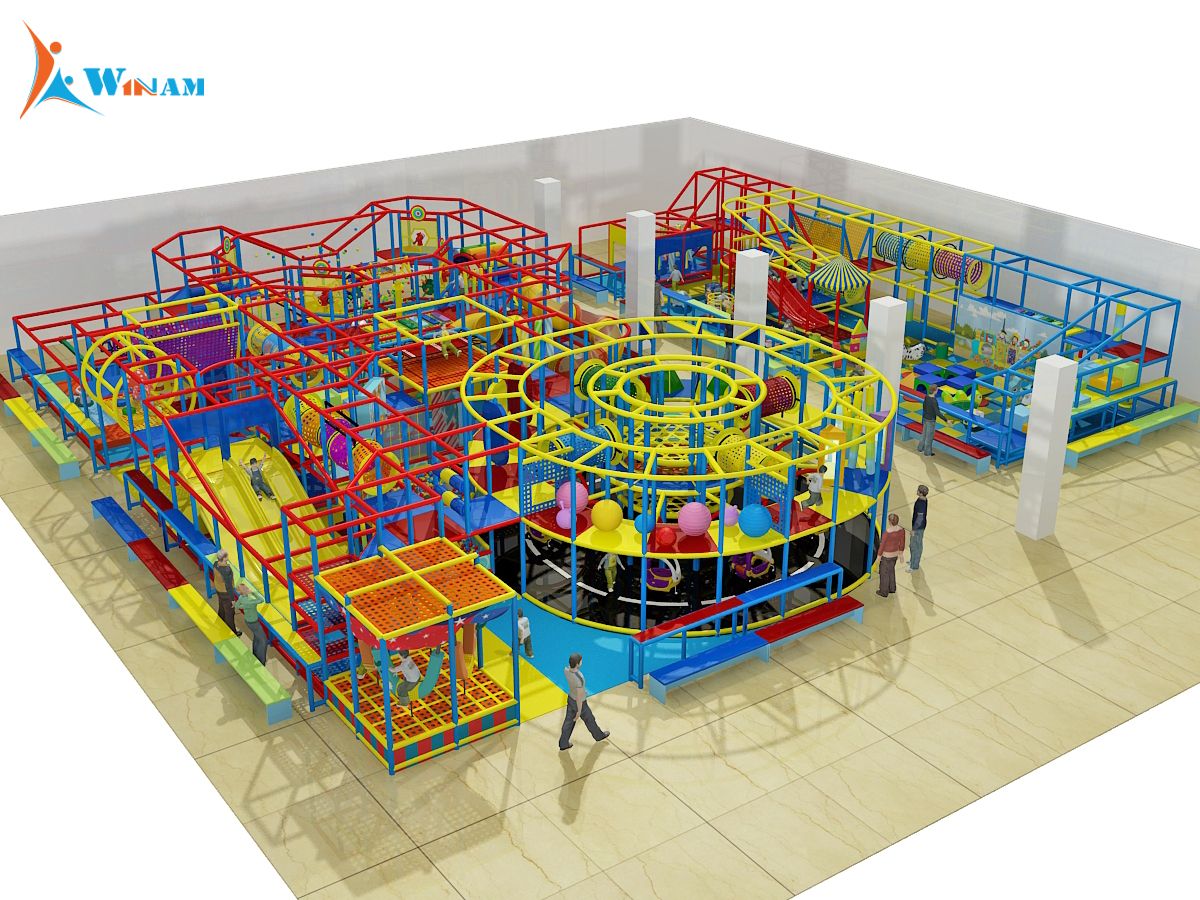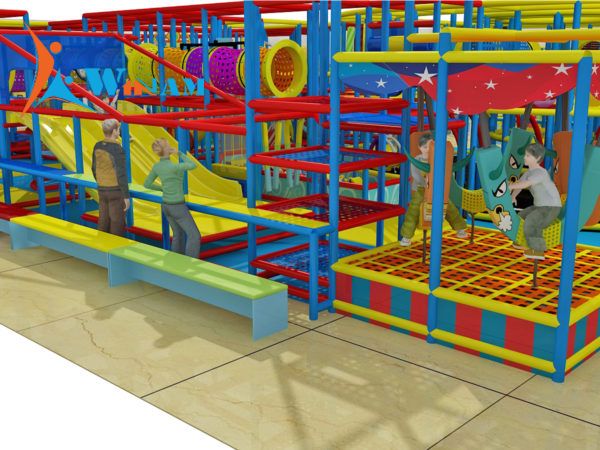 | | |
| --- | --- |
| Size (Feet) | Main -72 x 44 x 11.15 (H), Toddler -60 x 20 x 9.8(H) |
| Age | Age 0-2, Age 2-5, Age 5-12 |
| Capacity | < 10, 10-50, 100-200, 200+, 50-100 |
| Levels | 2 Levels |
| Solution | Church & Faith Centers, Health Care Facilities, Hospitality & Amusement, Parks & Recreation, Pre-Schools & Daycares, Private & Public Schools, Retail & Restaurant |
| Square Foot Range | 3,001+ sq. ft. |
| Theme | Non-Themed |